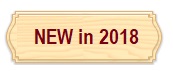 The Sylvanian Families live in the idyllic world of Sylvania and encourage traditional family life play incorporating houses, furniture, accessories and memorable characters all with incredible detail that you'll love.
This gorgeous new tram is from the Sylvanian Families Town Series. Time for the Sylvanians to travel around town in style with this urban update on transport!
Stylish, colourful and loads of fun, the seating in this vehicle are moveable. If you feel like it the seat can be placed up top, for the best views around.
What's included in this set (please note: Figures are not included)  1 beautiful red tram; A tram stop sign; 2 moveable double tram seats; a cap for the driver; a moveable driver's dashboard; a ticket machine; various tickets and tour guide pamphlets
No figures included.
Recommended for ages 4 years+
You may also be interested in these:
---