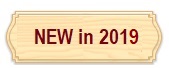 The Sylvanian Families live in the idyllic world of Sylvania and encourage traditional family life play incorporating houses, furniture, accessories and memorable characters all with incredible detail that you'll love.
Cute Couple Set is made just for dates. Includes Stella, the stylish Chocolate Rabbit Older Sister and cool Cinnamon Rabbit Older Brother.
Cute Couple Set's Chocolate Rabbit Older Sister and Cinnamon Rabbit Older Brother are able to hold hands.
Both figures can hold flower bouquets, allowing for various date scenes.
Recommended for ages 4 years+
You may also be interested in these:
---