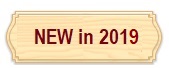 The Sylvanian Families live in the idyllic world of Sylvania and encourage traditional family life play incorporating houses, furniture, accessories and memorable characters all with incredible detail that you'll love.
Baby Ferris Wheel includes a cute ferris wheel that can seat up to 3 babies and a Toy Poodle Baby figure.
Baby Ferris Wheel's ferris wheel can be turned by holding onto the handle and turning to spin the circular base.
Includes – Frame (Left), Frame (Right), Gondola x3, Pole, Center Piece, Lock Piece, Handle, Base (Left), Base (Right), Toy Poodle Baby (a total of 12 pieces)

Recommended for ages 4 years +