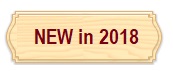 The Sylvanian Families live in the idyllic world of Sylvania and encourage traditional family life play incorporating houses, furniture, accessories and memorable characters all with incredible detail that you'll love.
Freya Chocolate Rabbit has been practicing and practicing and is now ready to show the world what she can do with her trusty violin!

In this concert set, the Freya figure has specially designed hands that enable her to hold and play her violin. Also included is a case for the violin so Freya can safely take her precious instrument to recitals.

Set includes special Freya figure in beautiful outfit, violin with holder, bow and violin case.
Recommended for ages 4 years+
You may also be interested in these:
---