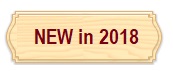 The Sylvanian Families live in the idyllic world of Sylvania and encourage traditional family life play incorporating houses, furniture, accessories and memorable characters all with incredible detail that you'll love.
4 Piece Family Set: Father, Mother, Brother and Sister, mother and father stand 6cm tall.  Figures have movable limbs and heads and are dressed in removable fabric clothing.  Great for stimulating imaginative role play in children.
Father Theodore Maple is the tram driver. He is always on hand to guide the Sylvanians through the town area and knows all the best places to visit.

Mother Georgina Maple runs the Creamy Gelato Shop. She makes delicious gelato for everyone in lots of tasty flavours.

Brother Jasper Maple loves to read. Sometimes he is so absorbed in his book that he forgets where he is, and often misses his stop on the tram!

Sister Millie Maple loves flower arranging. She is very talented and decorates her family?'s home with colourful floral masterpieces.
Figures only – Accessories not included

Recommended for ages 4 years +
 
You may also be interested in these:
---