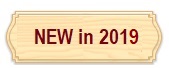 The Sylvanian Families live in the idyllic world of Sylvania and encourage traditional family life play incorporating houses, furniture, accessories and memorable characters all with incredible detail that you'll love.
Sylvanian Families Floral Garden set with Topiary trees, rose-covered Arch and flowers.
This new set is simply stunning!  An elegant white archway will look perfect in your new Sylvanian town setting, a park, or add some loveliness to your Sylvanian back yard! 
Holding a Sylvanian Families wedding? Then you can't be without a rose covered archway, a romantic setting for a marriage ceremony.
The beautiful strand of greenery with roses can be placed over the Archway or can be entwined on the rails of a staircase, as seen in illustrative images here.
Includes: white Archway with steps, 2 topiary trees in pots, 2  flowers in white urns, 2 flowers in rectangle pots, 2 strands of greenery, 12 sets of roses to be placed on greenery strands.
Recommended for ages 4 years+
You may also be interested in these:
---