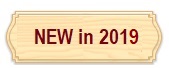 The Sylvanian Families live in the idyllic world of Sylvania and encourage traditional family life play incorporating houses, furniture, accessories and memorable characters all with incredible detail that you'll love.
A classical telephone and a matching cabinet. Set includes some accessories.

"Chocolate residence, Freya speaking." This vintage telephone, with gold detail also comes with a cupboard cabinet. A schedule board is there to keep your Sylvanians up to date with any appointments and there's also two telephone books which can be stored below. 3 pieces of memo paper, a pen and a pen stand are the perfect way for your Sylvanians to take down some notes, and there's even a lace mat so that it all looks lovely and homely!
Figure not included.

Recommended for ages 4 years +
You may also be interested in these:
---