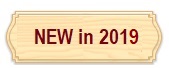 The Sylvanian Families live in the idyllic world of Sylvania and encourage traditional family life play incorporating houses, furniture, accessories and memorable characters all with incredible detail that you'll love.
Add some style to your Sylvanian dining room! This elegant carved-look table and matching stylish red chairs are in a class of their own!
And that's not all - this dining set is accompanied by a white dinner set, with gold-coloured cutlery, and a white vase holding red roses! What is the occasion?!
Include: 1 x dark table, 2 x elegant chairs, Cutlery and crockery to set the table for 2, 1 x vase with roses
Enjoy this delightful set!
Recommended for ages 4 years+
You may also be interested in these:
---