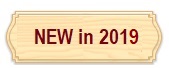 The Sylvanian Families live in the idyllic world of Sylvania and encourage traditional family life play incorporating houses, furniture, accessories and memorable characters all with incredible detail that you'll love.
Blooming Flower Shop is a lovely building with colourful flowers lined up inside.
Blooming Flower Shop features flowers that can be picked from the shop's display and wrapped into a bouquet for figures to take home.
The building comes with beautiful engravings.
Using the ceiling and passageway parts creates a wider floorspace, allowing for even more fun.
The bouquet can be placed in the hands of figures.

Maple Cat Older Sister is this store's owner (figures sold separately).
Place next to the Grand Department Store, Creamy Gelato Shop, or other buildings on top to recreate a lovely townscape (sold separately). 
Recommended for ages 4 years+
You may also be interested in these:
---